Welcome to our Delhi to Manali Tempo Traveler Service! Planning a trip from the bustling city of Delhi to the serene mountains of Manali? Look no further, as our Tempo Traveler service is here to provide you with a comfortable and convenient journey. Whether you're traveling with a group of friends or with your family, our well-equipped Tempo Travelers are perfect for a memorable road trip experience. Delhi to Manali tempo traveler service
Why Choose Our Tempo Traveler Service?
Comfortable and Spacious Vehicles: Our Tempo Travelers are designed to ensure your utmost comfort during the long journey. With ample seating space, reclining seats, and air conditioning, you can relax and enjoy the scenic beauty along the way. We prioritize your comfort throughout the trip.
Experienced and Professional Drivers: Safety is our utmost priority. We have a team of experienced and professional drivers who are well-versed in the Delhi to Manali route. They will navigate the roads with expertise, ensuring a safe and smooth journey for you and your fellow travelers. Delhi to Manali tempo traveler service
Flexible Itineraries: We understand that every traveler has unique preferences and requirements. Hence, we offer customizable itineraries for your trip. You can choose your preferred pickup and drop-off points in Delhi and Manali, and even plan stops at popular attractions along the way. We provide the flexibility to tailor the trip according to your needs.
Affordable Pricing: We believe in providing value for your money. Our Tempo Traveler service offers competitive prices without compromising on quality. We ensure that you get the best service at affordable rates, making your trip budget-friendly. Delhi to Manali tempo traveler service
Excellent Customer Service: We strive to deliver the highest level of customer satisfaction. Our dedicated customer support team is available round-the-clock to assist you with any queries or concerns you may have. We are committed to making your journey a memorable one.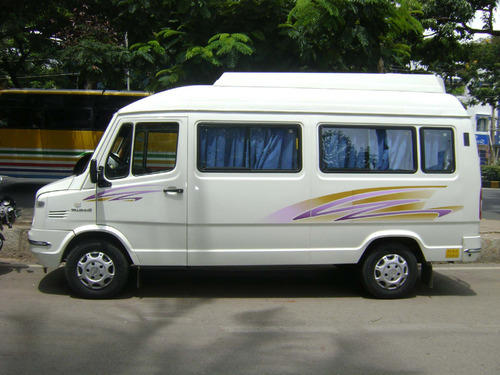 Contact Us:
For any inquiries or assistance regarding our Delhi to Manali Tempo Traveler service, feel free to contact us: Phone: 9779888766
Embark on an unforgettable journey from Delhi to Manali with our reliable and comfortable Tempo Traveler service. Book your trip today and let us take care of your transportation needs while you create lifelong memories in the enchanting landscapes of Manali! Delhi to Manali tempo traveler service
Delhi to Manali Tempo Traveler Service fare
| Tempo Traveller | Price / K.M. | Driver Charge |
| --- | --- | --- |
| 14 Seater | 25/- Rs. | 500/- Per Day |
| 15 Seater | 25/- Rs. | 500/- Per Day |
| 16 Seater | 26/- Rs. | 500/- Per Day |
| 17 Seater | 26/- Rs. | 500/- Per Day |
OUR SERVICE
TOUR PACKAGE