Book Delhi to Manali Tempo Traveller Hire Tour Package with HPACB. If you're planning a trip from Delhi to Manali with a large group, then a 14 seater tempo traveler can be a great option for a comfortable and convenient travel experience. In this blog, we'll cover everything you need to know about 14 seater tempo traveler service from Delhi to Manali, including the benefits of hiring a tempo traveler, the features of the vehicle, the cost of the service, and the best tempo traveler providers in the area. 14 seater tempo traveler delhi to manali service.
Benefits of Hiring a 14 Seater Tempo Traveler from Delhi to Manali:
Comfort and convenience – A 14 seater tempo traveler offers a comfortable and convenient way to travel from Delhi to Manali, as you can avoid the hassle of driving yourself and can sit back and relax during the journey.
Time-saving – Tempo travelers are generally faster than public transport, and can take you from Delhi to Manali in a shorter amount of time.
Flexible – Tempo traveler services are available 24/7, so you can book a ride at any time that's convenient for you.
Safe and reliable – Tempo travelers are driven by experienced and knowledgeable drivers, ensuring a safe and reliable journey. Delhi to Manali Tempo Traveller Hire Tour Package
Features of a 14 Seater Tempo Traveler:
Spacious and comfortable seating – A 14 seater tempo traveler comes with spacious and comfortable seating for up to 14 passengers.
Air conditioning and heating – The vehicle is equipped with air conditioning and heating systems to ensure a comfortable temperature during the journey.
Entertainment system – Some tempo travelers come with an entertainment system, such as a TV or music player, to keep passengers entertained during the journey.
Luggage space – The vehicle has ample luggage space, making it a great option for large groups with plenty of luggage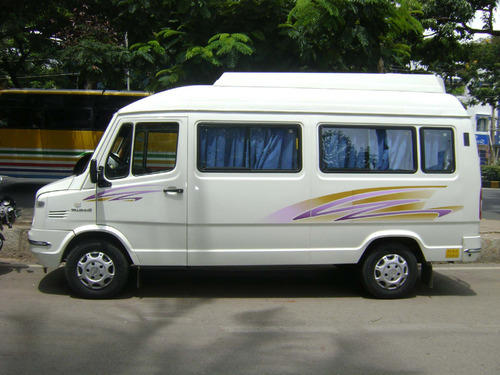 Delhi to Manali Tempo Traveller Hire Tour Package fare
| | | | |
| --- | --- | --- | --- |
| Seater | Seating | Rate KM/- | Per Day |
| 7 Seater | 6+1 | 17/- | 500/- |
| 8 Seater | 7+1 | 19/- | 500/- |
| 10 Seater | 9+1 | 19/- | 500/- |
| 12 Seater | 11+1 | 19/- | 500/- |
Delhi to Kullu Taxi or cab Fare:
Rs 10-11 per km for AC Sedan Car (Car: Dzire/ Etios)
Rs.13-14 per km for AC 7 seater (Car: SUVs or Innova)
Rs. 19-24 per km For AC (Tempo Traveller up to 12 Seater )
Chandigarh to Shimla Taxi
Chandigarh to Manali Taxi
Chandigarh to Delhi taxi service
TEMPO TRAVELLER in Service in Chandigarh